HA Quarter-turn tap
• Flow rate 27 litres/minute at 1 bar
• Network pressure up to 10 bars
• Allowable temperature 60°C
KEY FEATURES:
• Solid brass CW617N
• Robust and compact
• Integrated HA back ow preventer • Integrated polymer valve
HA antipollution tap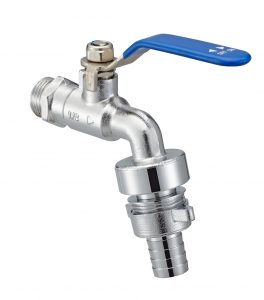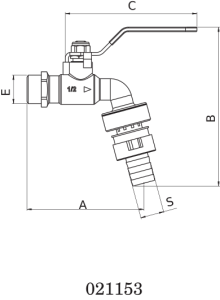 The EN 1717 standard states that an outside tap with a hose nozzle connector should be protected by a back ow preventer.
The quarter turn HA tap thus covers the function of outdoor tap but also HA back ow preventer.
These taps are designed to attach to exible hoses with or without a closing mechanism on the end.
It is designed to prevent back ow in water for human consumption arriving directly from a drinking water supply network.
In the event of a dip in pressure upstream, the HA tap prevents syphoning and back ow, and thus contamination of the drinking water network.

Standard tap without back ow preventer

ENSEMBLES DE PROTECTION APPROPRIÉS AUX CATÉGORIES DE FLUIDES