ECOBAR with universal connector
It is obtained with an ECOBAR pressure reducer with a double thread upstream and 3/4 male and 1/2 female downstream.
It is packaged individually with two connectors male 1/2 female 3/4 that come unassembled.
KEY FEATURES:
• These accessories allow the installer to arrange all the usual 16 connection con gurations, see the table below.
• The universal connectors considerably reduce the time needed for installation
• The universal connector allows you to have minimum stock and maximum while guaranteeing easy assembly every time.
ECOBAR with universal connector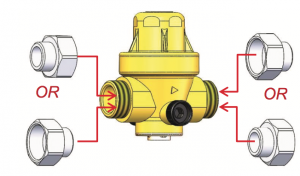 Table of possible configurations :